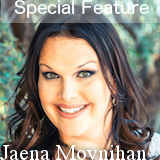 I have invited Jaena from DivineMissionCoaching.com to provide a monthly inspirational message. We can all use a little inspiration once in a while. Jaena is a good friend of mine and I have always noticed that she can lighten a room and provide a meaningful thought. She finds her own personal inspiration from many sources that I am sure she will share with you. You can use these thoughts to start your own personal meditation.
Happy March, #DuCrew!
That's the current nickname in my head for friends, fans and family of Allison DuBois LOL
I hope the month is going well for you so far!
I adore March; it's my birth month! Not only that, it's right next to the Spring Equinox, which always makes me think of cleansing, renewal...Read More »
---
Hey Loves!
I'm Allison's friend, Jaena Moynihan. I was so excited when she invited me to join you on her site to share a few of my inspirational nuggets with her community! We've known each other for years and there's a lot of love between us, so what better time to start than February, the...Read More »
---