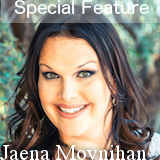 I have invited Jaena from DivineMissionCoaching.com to provide a monthly inspirational message. We can all use a little inspiration once in a while. Jaena is a good friend of mine and I have always noticed that she can lighten a room and provide a meaningful thought. She finds her own personal inspiration from many sources that I am sure she will share with you. You can use these thoughts to start your own personal meditation.
Release And Let Go So Things Can Flow
Hey Love! It's me, Jaena Moynihan, your Divine Mission Coach and "friend with spiritual benefits", here to deliver a little monthly inspiration.
I'm  inspired by a lot of things but there's one thing I'm consistently and continuously inspired by nearly every single day: tarot...Read More »
---
Hey, Loves! I hope you're having a fabulous month so far! 🙂
April reminds me of many delightful things, including:
Springtime
Renewal & Rebirth
Cleansing
Easter
Bunnies!
There's also a couple of highly-significant anniversaries for me in April, one not exactly "delightful":
The day I quit my job to be a self-employed spiritual entrepreneur
The day my father passed away (which comes...Read More »

---
Happy March, #DuCrew!
That's the current nickname in my head for friends, fans and family of Allison DuBois LOL
I hope the month is going well for you so far!
I adore March; it's my birth month! Not only that, it's right next to the Spring Equinox, which always makes me think of cleansing, renewal...Read More »
---
Hey Loves!
I'm Allison's friend, Jaena Moynihan. I was so excited when she invited me to join you on her site to share a few of my inspirational nuggets with her community! We've known each other for years and there's a lot of love between us, so what better time to start than February, the...Read More »
---