All Tickets are purchased online and are picked up at the event.
Near Death Experience
Today on The Dead Life, you'll be hearing from Jacob Cooper. At the age of 3 he had a near-death experience that served …
---
I have started a new video series on youtube. In each episode, my goal is to bring some peace to the living by connecting them with their deceased loved ones allowing the living and the dead to tell each other what they needed each other to know but didn't get to say due to death's interruption.
This and many more videos are available on my Youtube channel:
https://www.youtube.com/mediumallison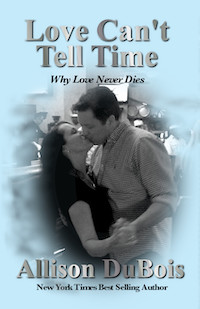 I poured my heart into writing my 6th book, Love Can't Tell Time! It focuses on Soulmates, personal stories from people who've loved and lost (in a physical sense), and what having a soulmate means. I've included my personal backstory with my fated meeting with my soulmate, Joe.
I know you might not expect a book that includes dying to leave you feeling warm and grateful for the love you've received as well as the love you've given to others. But, I aim to show you that great love transcends time. Enjoy your journey through Love Can't Tell Time; I hope you enjoy reading it as much as I loved writing it.

Yes, I am the Allison DuBois that the hit network television show 'Medium' was based on and thank you to all the fans, both old and new ones who often message me about how much they love and miss the show! I am also the host of The Dead Life podcast where my sarcasm, fascinating guests and the Afterlife prove to be a magic combination!
My story started well before the show. It began in childhood when I was just 6 years old. How I dealt with my gifts as a child and teenager are detailed in my book "Don't Kiss Them Good-Bye." Having been a gifted child who had to figure things out the hard way I decided to make it easier for others who follow in my footsteps and I created Dead University. I'm over the moon proud of my students! It's sort of a master class for mediumship that's online with video lessons from me that you can start anytime. The big difference is my class provides a Zoom Laboratory for my students from around the world  to practice in every week for a full year. My students can also ask me questions about their progress as mediums/psychics or about the direction they want to grow in,  which I answer every Monday. If you have strong intuition or see the dead, come join my class and be one of my Magic Makers!
My website is designed to help bring clarity to people in their sometimes complicated lives. I want to help the grieving to move through their pain and learn how to "re-connect" with the loved one they yearn for. You can't get around the pain, you must move through it in order to heal. I try to help people to see death in a new light. As I wrote in my books many years ago and continue to say today, "Every day you wakeup is a good day because it's a day closer to seeing your deceased loved ones again. They're not your past, you didn't leave them behind. They are your present and future you're moving towards them!".
Through the years I have kept the same goals, but mostly opening people's minds and hearts to the dead. I have added a newsletter, FAQ's video clips, Dead Life University, The Dead Life podcast and a shopping cart, but in the end, it is about helping people to understand the Afterlife.
The Television show MEDIUM was a great success! With 130 episodes and 7 seasons, it still airs worldwide. It was quite an experience to see my life played out on Network Television. Now it is a new experience for many including new generations to watch the re-runs, all of these years later.
Please take some time, watch my informational videos, and read the FAQs. I am constantly adding content to help achieve the goal of helping people to come to terms with the fact that love doesn't die.
-Allison DuBois