Tickets purchased on-line on the day of the event can be picked up at the event.
What to Expect, Winter 2021
This week on the Dead Life, I'm talking with Tom McMullan, astrologer extraordinaire. We are talking about the next three months and what …
---
I have started a new video series on youtube. In each episode, my goal is to bring some peace to the living by connecting them with their lost loved ones.
This and many more videos are available on my Youtube channel:
https://www.youtube.com/mediumallison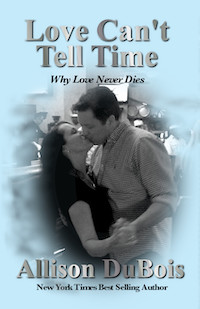 For the last year I've been pouring my heart into writing my 6th book, Love Can't Tell Time! It focuses on Soulmates, personal stories from people who've lost theirs, and what having a soulmate means. I've included my personal backstory with meeting my soulmate Joe; starting the night we met.
I know you might not expect a book that includes dying to leave you feeling warm and grateful for the love you've received as well as the love you've given to others. But, I aim to do just that by showing how a great love transcends time. Enjoy your journey through Love Can't Tell Time; I hope you enjoy reading it as much as I loved writing it.

Yes, I am the Allison DuBois that the Network Television show 'Medium' was based on.
My story started well before the show. It began in childhood when I was 6 years old. How I dealt with my gifts as a child and teenager are detailed in my book "Don't Kiss Them Good-Bye."
My website is designed to help bring clarity to people in their sometimes complicated lives. For instance, some people have abilities they don't understand. The books I've written can help them to better understand their own abilities, in some cases their child's abilities. Also, I want to help the grieving to move through their pain. You can't get around the pain, you must move through it in order to heal. I try to help people come to terms with loss. I also explain how to recognize signs from the deceased.
Through the years I have kept the same goals. I have added a newsletter, FAQ's video clips, and a shopping cart, but in the end, it is about helping people to understand the afterlife.
The Television show MEDIUM was a great success! With 130 episodes and 7 seasons, it still airs worldwide. It was quite an experience to see my life played out on Network Television. Now it is a new experience to watch the re-runs, all of these years later.
Please take some time, watch my informational videos, and read the FAQs. I am constantly adding content to help achieve the goal of helping people to come to terms with the fact that love doesn't die.
-Allison DuBois