This week on The Dead Life my special guest is Chad Greulach, he's a veteran Executive Producer and Show Runner based in Los Angeles he's launched shows such as American Chopper, Gene Simmons Family Jewels and Hardcore Pawn! I've been working with Chad to bring the show I envisioned doing for the last 15-years to you. I want to help the families of the dead, who lost their loved ones tragically, to begin to move through their grief and heal.
Buried Emotions: When the Dead Speak, brings you the story of a young man who was murdered. You will meet his family and hear his story. We filmed this episode during the pandemic so you will see me conduct a reading from a different state than the family of the deceased live in. I don't know who I'm reading, how he died, or any details of his life and death, I only had a picture of the person that I was bringing through to draw energy from. You can watch Buried Emotions: When the Dead Speak at YouTube/MediumAllison.
Be sure to join the live chat this Thursday night at stereo.com/mediumallison
Watch Buried Emotions: When the Dead Speak right here!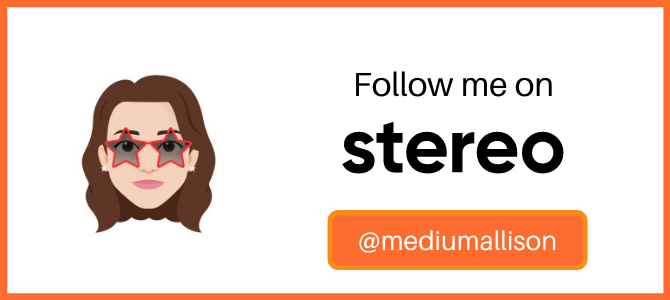 I'd like to take a minute to talk a little about my new show on the live social conversation app, Stereo. You might have a question for me right now, but you have no way of asking it. However, this new show is a little different because now, you get to ask me questions, LIVE! Every Thursday night, my husband Joe, who y'all know from my podcast, and I will be on Stereo, talking live about this week's podcast episode. Be sure to check it out on stereo.com/mediumallison.
Don't miss the Dead Life interactive show over on the Stereo App. We will be going LIVE every Thursday night and I want to hear from you.
Stereo is the app for live social conversations and I want to talk directly with you, our listeners! You can join the show, ask questions, and share your experiences. Download now and join us LIVE this Thursday!